STILL DEBATING? SEE WHAT OUR CUSTOMERS ARE SAYING!
Just had my first experience with Midnight Treats, and O.M.G. These cookies are incredible. If you're one of those who doubt that vegan desserts can taste as good as their dairy-based counterparts, you're right because these taste MILES BETTER than any cookie I've ever had. They're enormous, decadent, and absolutely delicious. I'm a 300lb meat-eating bodybuilder in his off-season, so I think my review counts for something. If you're thinking of trying these, stop thinking and just do it. Thanks to my wife for finding Midnight Treats!
Jude D
Best cookies I've ever had
These cookies were incredible!! Soft, gooey, and huge!! I would highly recommend for vegans and non-vegans alike. I'm already sending all my friends there to get their cookie fix
Mma13
AH-MAZING. I've only eaten the chocolate chip cookie so far out of the 3, but wow. Simply delicious and not overly sweet. I can't believe the cookies are DAIRY FREE too...that's right vegans, eat your little hearts out! Taste, texture, nothings sacrificed here. And let's not skip the obvious, these cookies are MASSIVE; so if you're feeling guilty about spending $5 on a cookie just know it's well worth it!

I reheated the cookie at 330 for 3 mins in my air fryer and it was perfect. A little crunch on the outside and soft on the inside.

Good job MidnighTreats, I'll be back!
Jade H.
My coworker brought some for us to try out, the Chocolate Chocolate Chip, and regular Chocolate Chip. The hype is WELL DESERVED. Do yourself a favor and eat these fresh. You know the the fist time you've ever had a fresh Krispy Kreme donut? Comparable, if not even better.

The exterior has a slight crisp/crunch at the initial bite, and the interior is soft and moist. Flavor? Perfect. Not too sweet and not at all bland. The fact that they are Vegan is almost an afterthought.
David R
THE ABSOLUTE BEST!!!!!
These are not only the best vegan cookies I've had, but they're some of the best cookies I've ever had, period! Kind of pricy but they're absolutely huge, so it's totally worth it. I got the cookies and cream, double chocolate, confetti, and cinnamon roll. I thought I'd like cinnamon roll least but it might have actually been my favorite. AND they got better over time. A few days in the fridge and they held up great. I cannot emphasize enough: these cookies are incredible and I can't believe no one else has reviewed them yet!
Chloe C
Got these as a gift for my sister & she wouldn't stop raving about them!! I can't wait to order some for myself! The communication with customer service was incredible and the shipping was prompt! Highly recommend
Dana b
WOW. there's nothing else I can say to accurately
describe the slap in the face of amazing flavor in each bite. Just WOW. they're HUGE, DELICIOUS & VEGAN. AND LOCAL. Literally couldn't be anymore perfect.
Kimi
My boyfriend & I LOVE MidnighTreats! We first came across them on Instagram and got a batch then. Our favorite is the Snickerdoodle one hands down! We love how creative and personal this company is, we were eyeing a cookie they posted which so happened to be a seasonal special, but they had some ingredients left to make us one! We also got their Valentine's Day Set. They're always creating new flavors and we so appreciate the variety!
Jennifer L
Loved the cookies and friendly service! Definitely the best treats in the DMV! Looking forward to trying all of the other different treats! 😋
Tina N
JOHNNY NGUYEN - OWNER
- Grew Up in Vienna, VA
- Started MidnighTreats in 2018 from mom's kitchen
- Loves: Pigs, bulldogs, and eating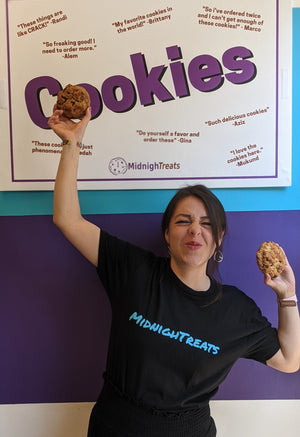 DIANA NGUYEN - OWNER
- Grew Up in Bogotá, Colombia
- Makes thousands of pounds of dough each week and runs our social media
- Loves: Cats and all things related to cats (although bulldogs are better)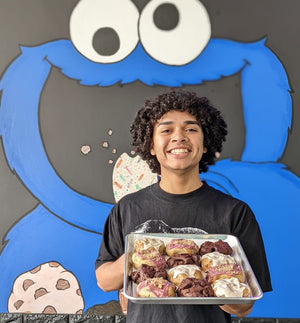 DJ - Store Lead
- Grew Up in Reston, VA
- Favorite Cookie: Blueberry Glaze
- Loves: One Piece, anything music related (concerts, collecting vinyls/cds, etc.), and his two dogs Bubba and Mowgli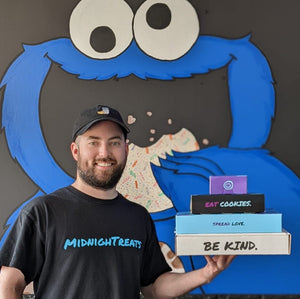 Jamison - Shift Lead
- Grew Up in South Carolina
- Favorite Cookie: Oatmeal Marshmallow
- Loves: His daughter and the Braves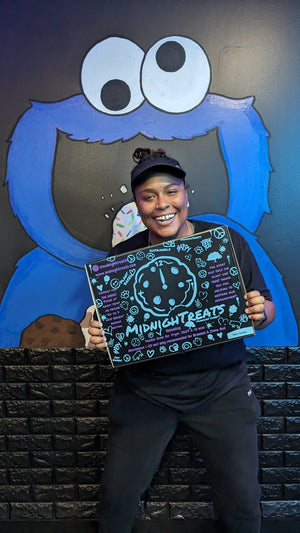 Jordan - Shift Lead
- Grew Up in Manassas, VA
- Favorite Cookie: The Cinna-Roll
- Loves: Sports, baking, playing music
Shuayb - Cookie Dealer
- Grew Up in Vienna, VA
- Favorite Cookie: Cosmic Brownie Cookie
- Loves: Basketball, screenwriting, and movies